Sheffield Wednesday 3-0 Arsenal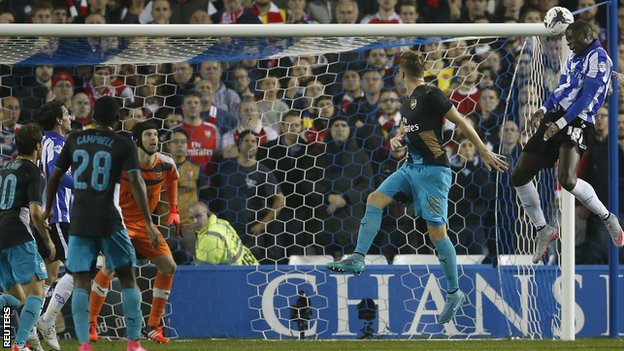 A week, as they say, is a long time in football. Arsenal would have certainly had this famous phrase ringing in their ears on Tuesday night as they went from beating the mighty Bayern Munich to being dumped out of the League Cup 3-0 away to Sheffield Wednesday exactly seven days later.
This night had a disastrous feeling about it as early as the fourth minute when Alex Oxlade-Chamberlain reported a tightening of his hamstring and had to be replaced
by Theo Walcott. This substitution was reported at the time as a precautionary one and it was somewhat strange to see Walcott thrown straight into the action without the benefit of even a quick warm up. Things turned from bad to worse when Walcott himself had to be replaced mere minutes after coming on, with a calf complaint.
However, worse was still to follow as Arsenal were now reduced to relying on a number of teenagers, making their debuts for the club in a hostile environment, to produce the goods to get their team through to the next round. In the post-match interviews Wenger proclaimed that none of the debutants were up to the correct standard required at this level, but in truth they were all let down by their more experienced colleagues.
When making their debut at such a young age, the likes of Alex Iwobi and Glenn Kamara needed to be coached through the game by Mertesacker, Flamini and Giroud. However none of the experienced players stepped up to the plate and essentially they left these young debutants to be hung out to dry. As a result, Arsenal barely created a goal scoring opportunity of any note, with Giroud hardly touching the ball all game. Yes the Frenchman could point to a lack of service from his attacking midfield, with Joel Campbell's final ball particularly disappointing throughout, but Giroud could have been more industrious as he had been against Everton in the previous game. Against Sheffield Wednesday, Giroud just didn't look interested and he wasn't the only one.
It was in defence that the Gunners were most disappointing. While the attacking midfield were all young and inexperienced, the defence were anything but. Kieran Gibbs at left back, Mertesacker and Chambers at centre back and Debuchy at right back, should not be making the mistakes that were made against Sheffield Wednesday, as Arsenal simply gifted the hosts all three goals. Debuchy in particular has had a torrid season so far. The Frenchman has lost his place in the starting line up to Hector Bellerin and does not look like regaining it any time soon. Caught out of position time and time again, Debuchy looks a shadow of his former self and a liability whenever he enters the field of play.
The Frenchman was hopelessly caught out for the first goal as a simple ball over the top found Daniel Pudil in acres of space and he was able to race to the by-line before cutting the ball back towards the edge of the area for Ross Wallace to fire home unchallenged, despite being surrounded by Arsenal players. The Gunners were in serious trouble. Although they were enjoying a great deal of possession, there was a distinct lack of creativity and Sheffield Wednesday were actually quite comfortable, sitting back and hitting the Gunners on the break.
It seemed only a matter of time before the home side would extend their lead and as the first half entered the final few minutes a cross into the box, following a cleared corner, saw Joao head home completely unmarked. Replays showed he had inexplicably managed to find space in between Chambers and Debuchy as the Arsenal defence fell asleep once more. Wenger must be worried about the development of Chambers as the former Southampton man seems to have lost his confidence and has even gone backwards as every time he plays, crucial mistakes are made which could cost his side. As things stand, he is certainly not a player Wenger can rely upon to fill in a gap for a prolonged period.
Having entered the halftime break two goals down and already having made two substitutions, Wenger had no real options on the bench to help change the game and there was a feeling of damage limitation about it as the game restarted. Unfortunately Arsenal's defensive lapses would cost them once again. This time their defending from a free kick was laughable as they allowed Tom Lees to be completely unmarked at the back post to receive the free kick delivery and cushion the ball back across goal for Hutchinson to steer into the empty net. Mertesacker had actually spotted Lees on his own as the free kick was about to be taken, but did absolutely nothing about the situation; hardly a captain's contribution from the big German.
Arsenal must put this result behind them and simply focus on their next game away to Swansea. Although the League Cup is a competition that many supporters do not take seriously and Wenger can point to the fact he needed to rest several players given the difficult schedule his side had endured before this game, the feel good factor that had enveloped the club over recent weeks has slightly dimmed with this result. Wenger must ensure that his players can pick themselves up and that the mood around the training ground and amongst the squad is not affected. Hopefully the injuries to Oxlade-Chamberlain and Walcott are not too serious as all of a sudden injuries are starting to pile up and the squad is starting to look quite thin. After all, those who are not currently regular starters didn't cover themselves in any glory on Tuesday night and wouldn't fill the supporters with any confidence should they be named in the starting eleven any time soon.